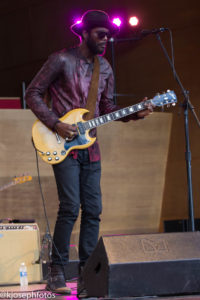 After 34 years, The Chicago Blues Festival continues to be the largest free blues festival in the world, which is only fitting as Chicago is the "Home of the Blues."  Past headliners have included Bonnie Raitt, Ray Charles, B.B. King, and Buddy Guy.  This year, to show how Chicago blues has influenced the world, the city announced that the festival will not only bring the best in the genre home to Chicago, but it will also feature genres that were influenced by Chicago blues; such as folk, rock and even hip-hop.  By including younger artists and moving over to Millennium Park, this year's Blues Fest was not your father's Blues Fest.
Three of the younger artists that stood out weren't necessarily traditional blues artists, but were steeped in the tradition of the Chicago Blues:
Rhymefest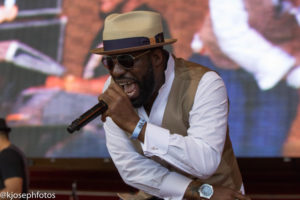 When Chicago's own Che "Rhymefest" Smith took the stage, you could hear some of the crowd grumble.  They weren't happy that their blues line-up had been crashed by a hip-hip artist; but those folks weren't listening closely.  There is a direct, obvious line that runs from Robert Johnson through Muddy Waters, Bo Diddley, on to James Brown, Kurtis Blow and eventually Kanye West.  And Rhymefest belongs among these legends, as he reminded us during his spirited take on Kanye West's mega-hit "Jesus Walks", which Ryhmefest help write.  The song was originally intended for Rhymefest's debut album Blue Collar but instead appeared on West's debut The College Dropout and earned a Grammy for Best Rap Song.  Rhymefest's performance was soulful and dripping with emotions like any great bluesman.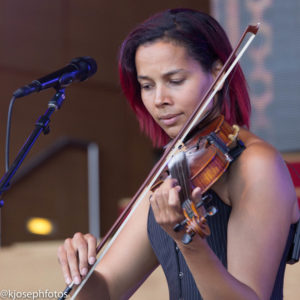 Rhiannon Giddens
The multi-talented Rhiannon Giddens can do it all.  The singer, violinist, and banjo player presented a wide-ranging set that touched on many blues-inspired genres.  Gidden took the audience on a journey down the Freedom Highway (the title of her latest album).  Performing barefoot, the opera-trained singer applied her amazing voice to blues classics, fiddled on modern folk tunes and strummed the banjo while digging back to her Old-Time Music roots.  There wasn't much left out of the comprehensive set that had a cool vibe throughout.  It was truly an education on American music that showed both the pain and joy (but mostly joy) that the blues can give you.
Gary Clark Jr.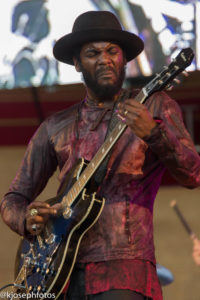 While blues music uses several instruments, the guitar is undoubtedly front and center. The genre pioneered new styles in guitar-playing which has, by far, been the mostly influential aspect of the Chicago Blues.  And that's where the Blues Fest's headliner, Gary Clark Jr., comes in.  If there was a title-belt for "Guitar-God", it would currently be around Gary Clark Jr.'s waist.  His music is a mix of blues, soul and rock, but it's his guitar playing that is a revelation. Like a true bluesman, Clark's licks are gritty, thick and down-right
vicious.  There is a very primal element to the kind of blues Clark plays – often building his solos to erupt in a climactic single note.  The thing that sets him apart is that he is equally capable of being a ferocious guitar hero, like in the song "When My Train Pulls In", as he is in delivering tenderness, like during the song "Our Love."  Gary Clark Jr. was a perfect exclamation point for the Chicago Blues Festival.
This year's Chicago Blues Festival did something important.  Not only did it showcase the best and brightest blues artists, it also showcased artists that, while maybe not traditional blues players, took their inspiration from the blues.  And in doing so, carry on the tradition of the blues.  This proves that the blues is very much alive and in good hands.
Pictures by K. Joseph Fotos.  More here.