Chicago has tons of music fests. Some revolve around the setting, some are gimmicky, some are more about the experience, but Pitchfork Music Fest is about one thing and one thing only:  the music.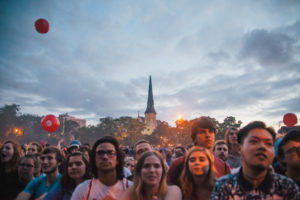 The fest is once again taking place at Union Park on July 14th thru July 16th.  This year's killer lineup features both emerging and established artists.   If you are a music lover, this is the fest you cannot miss.
Let's take a look at some of the acts you should check out.
Emerging Artists
Francis and the Lights:  the one-man alt-R&B act has had a big year which saw him collaborate with Frank Ocean, The Weeknd and Chance the Rapper.  Not only that, but Francis also released his album Farewell, Starlite! to critical acclaim.  His unique style sets him apart and positions Francis for big, big things.
Jamila Woods:  A Chicago native, Woods is a combination of activist, poet, and R&B singer.  She's another artist that is blowing up after collaborating with some heavy-weights, including Macklemore and Ryan Lewis.  Her voice is smooth and sweet, but Woods is a force of nature that will definitely be heard from in the future.
Solange:  Seems strange to call a headliner an "emerging" artist, but it seems as if Solange is just getting started.  Even though she's been around for a minute, her latest album, A Seat at the Table, was such a breath of fresh air.  The album is at the same time strong and vulnerable, aching and beautiful.  Her headline set on Sunday night should not be missed.
Established Artists
George Clinton & Parliament Funkadelic:  Dogs of the world unite!  George Clinton's funk music has influenced just about every other artist performing at Pitchfork.  The P-Funk music he developed during the 1970s and early 1980s still resonates with audiences today and will be in full effect on Saturday in Union Park.  This is a chance to see a living legend.
Tribe Called Quest:  A Tribe Called Quest's album was a rumor for 18 years.  Despite the death of Phife Dawg in 2016, the album We Got it From Here…Thank You 4 Your Service finally dropped late in the year and it was worth the wait. Over beats that are fresh, the rhymes sound timeless.  It's as if the group traveled in time from the early 90's to teach us how to groove.  Make sure you see Tribe Called Quest now, before they go away for another 18 years.
LCD Soundsystem – If there is one act to catch at Pitchfork, this is the one.  Friday night's headliner's sound is so big it will have most of the Near-West Side of Chicago bobbing along to its synthesized, fuzzy beats.  Since coming out of retirement, LCD Soundsystem has thrilled audiences with their dance-inducing blend of punk, disco and electro music.  Next month, all the cool kids will be telling you that they were at this show, so make sure you're there too!
Pitchfork Music Fest is all about the music.  These acts and many, many more will bring music that matters to Chicago.
For tickets and all the information, check out Pitchfork Music Fest's full website.
Which acts did I miss?  Please let me know in the comments below or on my Twitter Feed:  @kjosephfotos
Pictures provided by Pitchfork.