The Pitchfork Music Festival sets itself apart from other festivals by not following the trends, but rather focusing on presenting music by the very best artists.  Not many fests would have both experimental dance composure Nicolas Jaar on the same bill as legendary funk master George Clinton.  But that's just Pitchfork being Pitchfork.  With three days packed full of great artists, it is hard to compact that into a few moments.  But here is our attempt of the best moments with photos to back it up:
Jamila Woods Voice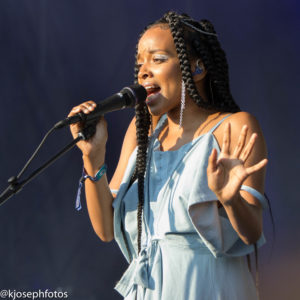 Chicago's own Jamila Woods got upgraded to the (bigger) Green Stage following a cancellation of The Avalanches, and she didn't shrink in the moment.  In fact she shined.   Her voice is smooth and sweet, but powerful enough to carry all 20,000 people in Union Park with her on an emotional roller coaster.  Expect to hear much more from Ms. Woods very soon.
Dance mob during Nicolas Jaar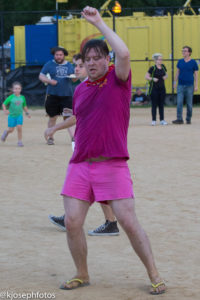 All three days the crowd was dancing along to the music, but none more than this man.  He was a one man show unto himself for every act.  But not any bigger than when Nicolas Jaar's avant-garde beats throbed from the Red Stage on Sunday evening.  At that moment, the dancing dude was joined by many, many people and the good-time, good-mood spirit of the weekend was on full display.
Tree Climbing by Francis
The only person who might be able to challenge the dancing dude is Francis Farewell Starlite, aka Francis and the Lights.  His set on Saturday afternoon was high energy right from the start: his upbeat, electro R&B music was supplemented with his exciting and never-tiring dance moves.  And if that wasn't enough Francis climbed up the stage and into a huge tree overlooking his audience.  This set was non-stop energy.
Funk and Fun alive and well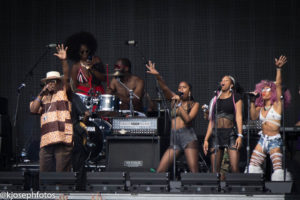 The funk-pioneer George Clinton's set at Pitchfork was just a straight up party.  And not just any party – the kind of party your friends won't believe you were at when you tell them about it.  Crowd interaction?  Yup, Clinton's set had that!  Dancing girls?  You know it!  A guy in a white, furry pimp suit doing hand stands on the speakers?  Of course!  Although, unless you were there, you won't believe how much fun this set was.
Artistic vision of Solange
The Sunday headlining set really showcased the artist that Solange is.  Not only was the music great with horns, Solange's spectacular voice and harmonies from the backup singers – but the presentation was so artistic it could have been hanging in a museum.  The stage was bathed in red-light for the entire performance and with the whole band choreographed to move, dance and sway together that it created a vibe that was unforgettable.
A Tribe Called Quest Reunion
Seeing Tribe's long-awaited reunion show was probably one of the most talked about performances heading into Pitchfork.  After all, A Tribe Called Quest hadn't released an album in 18 years, this was the group's first night of their tour and it's first real concert since the death of Phife Dawg.  None of that stood in the way of Tribe delivering a bombastic show.  The skill and passion of Q-Tip, Jarobi and Consequence really shown through, and the emotion of having a microphone on a stand to represent the late Phife Dawg, who's verses were piped in by the DJ, made for an classic night.
LCD Soundsystem's Epic Set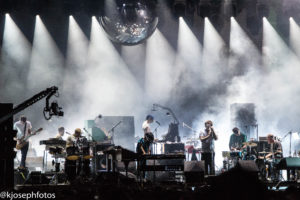 LCD Soundsystem's riotous headlining set, which kicked off with tracks like "Daft Punk is Playing at My House" and "I Can Change" was the best of the weekend.  James Murphy, the group's leader, and his crew are veterans that know how to play with the audience.  They started off hot, slowed things down, only to bring the crowd higher and more enthused at the end of the set.  This was no truer than during their performance of "Dance Yrself Clean," which is understated to start, but then launches into a explosive climax which the crowd loved.  It was the single best song performed at the entire festival.
Photos by K. Joseph Fotos.  Full gallery here.