I had a lovely time at the Silver and Gold Holiday Art Soiree hosted by the Sampaguita Group on December 13 at Mart Anthony's Italian Restaurant in Chicago.
The evening started with networking cocktails and bruschetta, stuffed artichokes, and baked clams.The area in which the event took place had the featured artists' pieces which were for sale, too.  The restaurant's quaint space offered the opportunity to meet new people and form new connections.
After mingling a while, the attendees were presented with a delicious dinner consisting of stuffed gnocchi arrabiata and roasted vegetables along with more yummy bites…I will be returning to Mart Anthony's in the future. It was buenisimo!
I had the special pleasure of meeting Rose Tibayan who is the CEO and co-founder of the Sampaguita Group, an independent, non-for-profit corporation awarding Filipino American women scholarships for their education. We chatted about the organization and why it was started. As noted by Rose and the website, "the call to establish an organization to financially assist Filipino American college women came after a report in the Harvard Asian American Policy Review  identified a phenomenon called "Educational Downward Mobility" affecting U.S.-born Filipino Americans. Studies showed that, when it comes to succeeding in college, U.S.-born Filipino Americans lagged behind their immigrant Filipino American counterparts. In several studies, this discrepancy was attributed to a number of issues—including socioeconomic challenges and cultural biases of females."  In the three years since it was founded, $10,000 has been awarded in scholarships to help Filipino American women continue their education.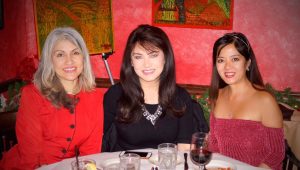 After dinner, it was time for the artists' presentations. Rose Tibayan made the welcoming remarks while Gail Garza, Director of Community Outreach of Sampaguita Group introduced the featured Chicago artists. These artists were Elisa Racelis Boughner, Cesar Conde, Jonathan Ralston and Joe A. Garzon.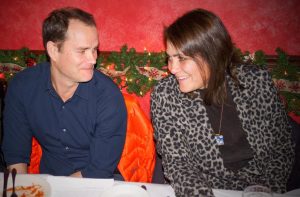 The artists were given the opportunity to present their work and answered questions from the audience. Boughner who paints still lifes,  uses bright and vibrant colors and says that everything inspires her and likes it when people feel something about her paintings. Conde, does a lot of social justice work and  his pieces reflect current events. We saw his pieces though a laptop presentation as his says that his art starts at 4×4 pieces.  Ralston's artwork consists of paintings of architecture he has visited. I thought that they could easily pass for photographs.  He focuses on the little things and believes that the composition is important to bring you in and out of the paintings.  For his paintings Garzon says that,  "everyone inspires me, everything inspires me" He also is inspired by nature and social justice.  His artwork "focuses on the relationship between man and nature."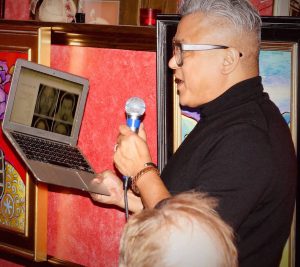 I glad to have had the opportunity to attend this event. It was a great opportunity to get to see work and hear from local artists themselves and meet other people in various fields and interests.
For more information and upcoming events from The Sampaguita Scholarship group, visit http://sampaguitagroup.org.  For more information on the artists visit Elisa Boughner, Cesar Conde, Jonathan Ralston,  and Joe A. Garzon.