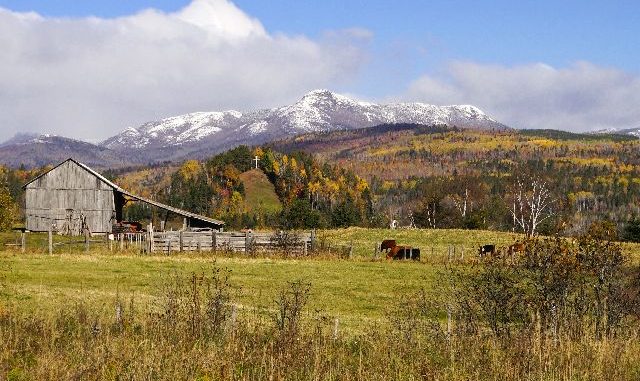 Just east of Quebec City is an area ripe for growing, dotted with the agricultural countryside, rolling rivers, and green valleys. Along Québec's renowned Charlevoix region, you'll discover breathtaking scenery, national parks, majestic rivers, homegrown ingredients and abundant cultural offerings. The area is also home to more than 40 local producers who welcome visitors to their farms, restaurants and shops, promoting agri-tourism at its best.
Thanks to the creation of the Flavor Trail, regional products such as ciders, vinegar, cheeses, spices, fine chocolates as well as meats and fresh produce can be sampled, savored and brought home to be enjoyed.
The best way to get to the area is via a leisurely two-hour ride on the Train de Charlevoix which runs from Québec City to Baie-Saint-Paul, showcasing exquisite scenery along the St. Lawrence River. Surprisingly, the route ends at the lovely Hotel Le Germain Charlevoix Hotel & Spa, which was the first of many surprises. If you have time, explore the cool, contemporary art in the train station, yes, the train station. This comfy, but contemporary country hotel, also known as "the farm in the hotel," is an ideal base to explore the region. There are five different buildings offering a variety of accommodations. My boutique room had heated bathroom floors, a free-standing tub and a chaise lounge for relaxing and surrounded an inner garden that provided fresh vegetables to the restaurant. We dined at Les Labours, a vast kitchen open on all four sides, so we could watch all the gastronomical preparations before our very eyes. I enjoyed the beef steak with potato puree, garden vegetables and rosemary sauce. But the really fun part was visiting the goats, pigs, cattle and various other animals that pasture in the hotel's backyard.
Explore Baie-Saint-Paul as you stroll down Saint-Jean-Baptiste Street and stop in the quaint boutiques, shops and impressive art galleries. My favorite was the Cidrerie Verger Pedeault, where I discovered so many different flavors of ciders, jellies and jams.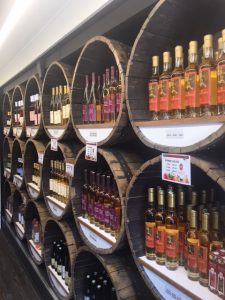 Saint-Jean-Baptiste Street. Photo by Mira Temkin.
Three Stops along the Flavor Trail
Laiterie Charlevoix                                                                                                                                
For more than four generations, the Laiterie has been known for producing cheddar, squeaky curds and other gourmet cheeses. Sample the varieties as well as fresh baked goods, then enjoy your selections on the picnic tables outside. Tour the Milk and Cheese Museum with its extensive collection. You'll be fascinated to learn how they use the whey for energy.
Ferme Basque
Meet Isabelle and Jean Jacques who take great pride in raising "free range" ducks. Visit their farm and try their pate, foie gras, duck sausage and other delicacies.
Champignons Charlevoix
See how oyster mushrooms are grown in a unique environment and taste the fruits of their labors. Their mushroom pasta sauce, soup and dried mushrooms found their way back into my suitcase.
Indulge in luxury at the Fairmont Le Manoir Richelieu
Perhaps the best part of the trail is the opportunity to stay at the historic Fairmont Le Manoir Richelieu in La Malbaie, made famous as the host of the recent international G-7 conference. At this all-season, five-star luxury resort, guests will find an award-winning 27-hole golf course, four fabulous restaurants, state-of-the-art health club and indoor/outdoor spa, all overlooking the St. Lawrence River. "Come winter, our resort turns into a winter wonderland," says Sophie Desaulniers, director of group sales. "Guests can enjoy enchanting horse carriage rides, outdoor skating rinks and easy access to the slopes," she continued. Take advantage of your chance to experience their beautiful snowmobiling trails, directly accessible from the hotel. "Our Sports Centre will gladly prepare a snowmobiling adventure to experience the amazing scenery surrounding the resort," said Desaulniers. The Fairmont will make sure your stay turns out to be a grand escape! Or, try your luck at the Casino de Charlevoix, right next door featuring slot machines and card games.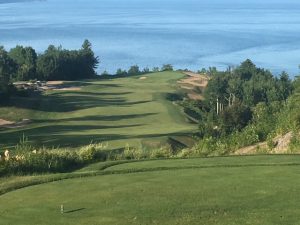 Discover this unforgettable gastronomic adventure along the St. Lawrence River. For more information, tourisme-charlevoix.com.