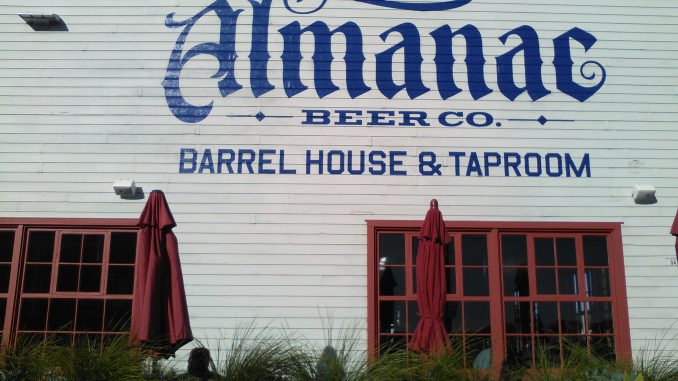 It was a lovely day – New Year's Day – and my husband and I coming from Menlo Park met our friends from Danville at Almanac Brewery in Alemeda.  We were curious about the brewery and we could bring our own food since the food trucks were not there that day.  The beer was great and unusual.  The venue surprised us.  It was historic. Rehabbed, it was interesting with a pleasant ambiance. Everyone seemed to be having a great time, the workers and visitors, and we did, too.
I had many questions as I looked around. And I received answers:
What is the history of the building?
Our new home is on the former Alameda Point Naval airbase and it's really special to us because it was built in 1942 during WW2 as a storage facility for airplane parts and still has all its original bones. The building has an important history and played a role in one of the most pivotal moments in American history. Most of the exposed wood is all Douglas fir and redwood and we have a soaring 37′ tall ceiling. It's an inspiring place to come to work every day.
What was the inspiration for establishing this site as a brewery?
This space is magical! Our founders knew they found Almanac's home when they first saw it. With all of the incredible woodwork inside, the building just screamed for more wood! So much of what we do involves aging beer in wine and spirits barrels, so adding our 1,000+ oak barrels was the obvious thing to do. It's a cathedral to barrel-aged beer. We also love being part of the Alameda community and are really excited about the awesome food and beverage scene developing on the island.
How long did it take to rehab the space in order to produce beer?
Two and a half years.
How long has the brewery been in business? Who are the owners?
Almanac was started in 2010 by our two co-founders Jesse and Damian. They met in a homebrew club and bonded over their mutual appreciation for sourcing local and sustainable ingredients from California farmers' markets. They wanted to make beers inspired by California's rich agricultural heritage and put a big chunk of their savings into producing Almanac's first beer at Drake's Brewing in San Leandro. They sold the first batch of 300 cases out of the trunks of their cars to local bars and restaurants in the Bay Area. The batch was so well received they decided to quit their day jobs to pursue Almanac full time.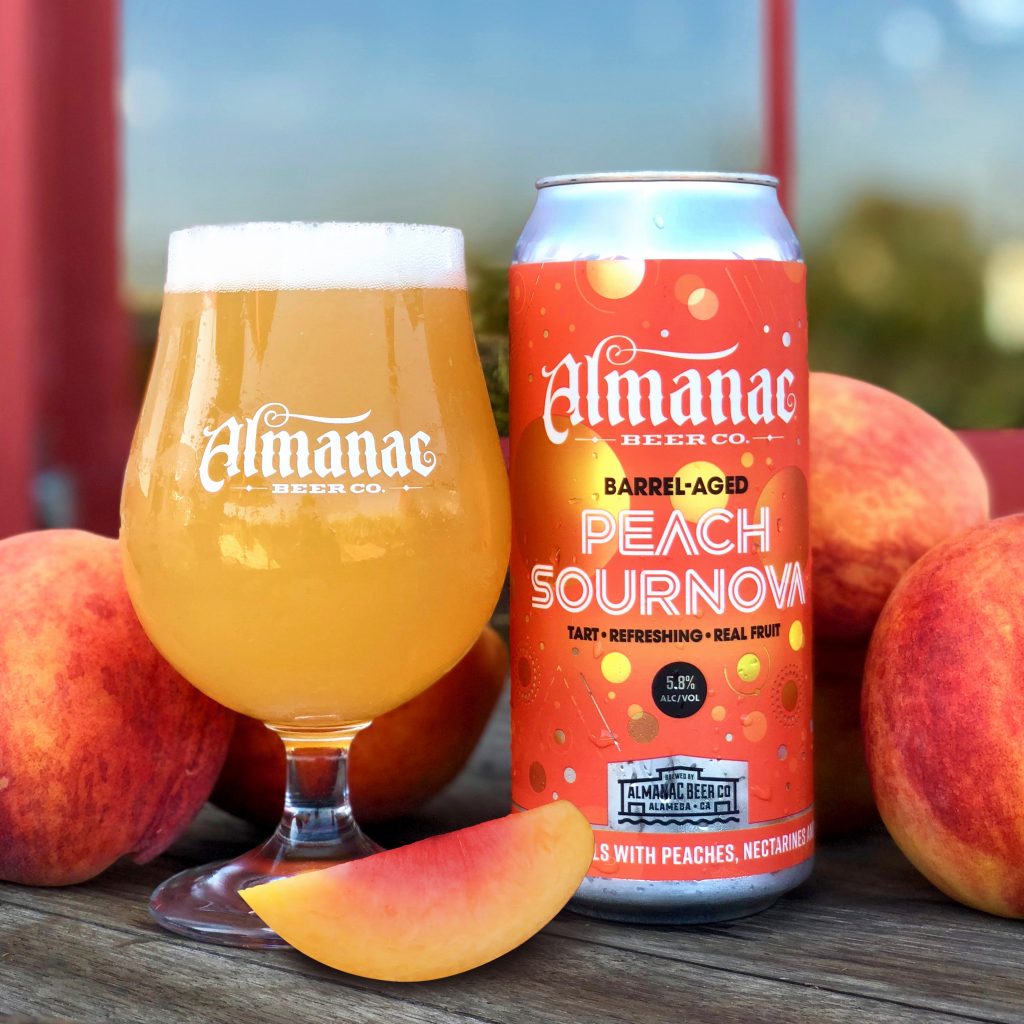 What is the focus of the beer produced here? What are the goals in terms of future beers?
Our motto has always been, "Farm to Barrel". We are dedicated to producing seasonal artisan ales, brewed to complement local cuisine sourced and prepared with the same great care and craft.
With the new addition of our Sournova series — a mixed-culture barrel-aged sour beer in a 16oz can sold at an attractive price point–one of our big hopes for the future is to get more people excited about sour beer and increase access to barrel-aged beer styles.
What was the inspiration for a Yoga day? What has been the reaction?
Why Beer Yoga? For the ultimate relaxation of course! But also, because we strive to be a community gathering space and this seemed like another great way to serve our local community. Drinking beer may not make you better at yoga, but we do know a cold brew tastes better after a little work out 🙂
Classes are every 4th Sunday of the month and so far, the response has been great. We almost always sell out the 40 available tickets.
Is there a rental space for private events?
Absolutely! We host everything from company happy hours, corporate meetings, holiday parties, painting workshops and art classes, to weddings and graduations! Email [email protected] for more info.