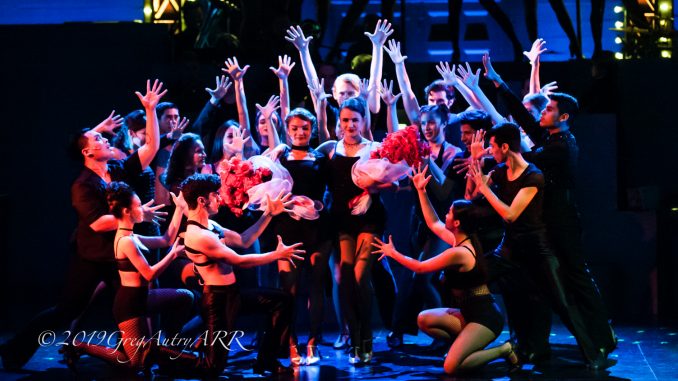 Kevin R. Hauge, Artistic Director at CMT San Jose, takes on one of the most iconic and challenging musicals in theater today.  With two Cast's the Production Numbers are sharp and crisp, the music swingin', and the vocals on top of the world. 
Chicago, now playing at CMT Mainstage in San Jose's Montgomery Theater, is sublime Musical Theater. From the 1926 Play by Maurine Dallas Watkins, it was brought to Broadway in 1975 by Bob Fosse, who created what we know today as the Fosse style, with his legendary choreography, which is flashy, dark, sensual, and always beautiful.  And who can forget Catherine Zeta Jones as Velma, in the iconic 2002 film version.
Set in the Roaring 1920's, in Chicago's infamous Cook County Jail, there is plenty of razzle dazzle as Velma Kelly woes her attorney Billy Flynn to free her of the murder charges, as she killed her philandering husband and sister.  Roxie Hart also gets thrown in the clink for murdering her furniture salesman, and lover, and begins her seduction of Velma's attorney Billy Flynn to get her "off", by setting up her hubby Amos to take the fall. Add to the mix many scintillating jail birds and you have a great combination for dance, music, and great characters as they fight their way to fleeting celebrity and fame.
There is also a book by Fred Ebb and Bob Fosse, with music by John Kander, and lyrics by Fred Ebb. The music, along with the dance choreography are some of the greatest in musical theater history, and include the opening overture, All That Jazz, along with a dozen others including: When You're Good to Mama, Cell Block Tango, We Both Reached for the Gun, I Can't Do It Alone, Razzle Dazzle, He Had It Comin', and my personal favorites of the production, Mister Cellophane, along with the Finale with both Velma and Roxie.
The two Casts for the CMT production, more than doubles Hague's and Director RB Embleton's work load. One thing I love about CMT is the bubbling energy and excitement of the young cast, which no doubt the Director and all the Cast and crew feed off of, and use to perfection in crafting the show.
For the Mainstage and Rising Star productions, there are often over 100 participants audition. CMT cast all who wish to participate. By creating two casts it allows the accommodation of large numbers of performers and gives each an experience where they feel valued and play an important role in the show. This production of Chicago at CMT Mainstage, features performers ages 14-20.
The two Casts are: Cook Cast and Joliet Cast. Each cast gets 5 performances for this production. During the rehearsal process the two Casts mostly rehearse together. While one cast is learning "on their feet", the other is watching and then they will switch. This teaches the performers to be present, learn in various ways, learn from each other and be supportive. And importantly, it allows a large talent pool the opportunity to perform, participate, and learn, as well as enabling CMT to offer two productions of the same high caliber. 
Lead Performers of  The "Cook Cast" consist of Rachel Troyer as Velma Kelly, Ande Burns as Roxie Hart, Marcus Gaye as Amos Hart, and Ethan Dea as Billy Flynn. Photos for this Article are taken with the Cook Cast. The Joliet Cast includes Brianna Pember playing the part of Velma Kelly, with Ginger Hurley as Roxie Hart, Milo Mee as Amos Hart, and David DeRuiter as Billy Flynn.  There are approximately 90 additional Cast and ensemble members, unfortunately all of which cannot be listed here.
Rachel Troyer and Ande Burns, as Velma and Roxie, both hit it outta the park, as they hit their marks, and were spot on with strong vocal range and lots of energy.  Marcus Gaye  and Milo Mee were both perfectly cast as Amos, and David DeRuiter, as Billy Flynn, engendered none other than Richard Gere's savoir-faire. 
CMT San Jose was founded in 1968, and is now one of the nation's largest youth musical theater and training programs of its kind. The mission of CMT is to train and educate today's youth through musical theater to set and achieve high artistic and personal goals and to inspire them to become exemplary artists, patrons, and citizens of tomorrow. CMT strives to foster a lifelong love of the theater including participants, the audiences, and the community. Every family is welcome in the hope that everyone will find the programs to be educational, innovative, and reflective of a true love of the arts. Everyone is invited to join CMT and join in the celebration of children, musical theater, and education!
Inclusiveness and quality are the two touchstones of CMT's vision. CMT remains dedicated to providing the highest possible caliber of musical and theatrical training to children from ages 4 to 20, spanning all abilities. Of CMT's most endearing qualities I find, is the promise that no child will ever be turned away, regardless of financial or physical limitations.
There are a range of ancillary programs at CMT. Education and outreach programming incorporates curriculum-based performing arts as a teaching tool and develops young audiences for musical theater. Production Workshops are a unique eight-week preparation process based on a clear artistic vision and the belief that each performer, at every skill level, can accomplish something remarkable.
Audition Master Classes, Guest Artist Series Studio Classes, and Summer Camp provide exceptional musical theater training in voice, acting and dance, culminating in performances designed to showcase the young performers' talent and hard work. Also, Student Audience Matinees are provided during weekday, where many of the audience are experiencing the gift of live theater for the very first time.
In 1996 CMT hired Kevin R. Hauge as its first full-time Artistic Director. Under his direction the company began to successfully produce more sophisticated, technically demanding shows that are usually undertaken only by large regional and professional theater companies. Chicago being one of those more challenging shows due the iconic dance and music. Hauge's many other Highlights include West Coast premieres of new Broadway titles including Billy Elliot, Sister Act, American Idiot, Miss Saigon and Elton John and Tim Rice's Aida. Under Hauge's leadership, the company has taken on new innovative initiatives including its NEA funded Second Screen Experience during its 2016 Mainstage production of RENT , the 1998 production of PULSE , and a 1999 production of 2101. Both of the latter productions were part of T.A.D.A (Theater as Digital Activity) which are full scale musicals written online with terminally ill patients at Children's Hospital and produced by CMT performers.
Now in its 51st season, CMT is preparing for a bright future. Throughout its history, quality youth theater has shown to fill a number of vital needs in the community.  An early introduction to the arts not only helps youth develop the skills, confidence and perspective to succeed in their education and adult lives, but also provides positive alternatives and inspiring role models to help them make healthy life choices. The thrill of being a part of something great does the rest.
I encourage every parent to support their child in exploring all aspects of all of the arts. The rewards for children, parents, and community, cannot be quantified but are guaranteed to provide for better lives for all. Please go to the CMT Website to see the various ways you can support CMT, as well as find out about Events, the staff and team at CMT, and various awards and scholarships available.
CMT San Jose Mainstage Presents, `Chicago.'
When: May 10-19, 2019,  Where: Montgomery Theater San Jose, 271 S. Market St.
Show Schedule: Friday, May 10 at 7 pm; Saturday, May 11 at 2 pm and 7pm; Sunday, May 12 at 1 pm and 6 pm; Thursday, May 16 at 7 pm; Friday, May 17 at 7 pm; Saturday, May 18 at 2 pm and 7pm; and Sunday, May 19 at 1 pm. Tickets are $20-$25. To purchase: cmtsj.org/chicago.
Street parking may be available and there is a City parking lot across the street. Rates vary
For many more photos and to Connect with me, Greg Autry,  go to  Instagram   @gregautry.cga, 
on Facebook  Facebook.com/GregAutryPhoto,  and on Twitter  @CGAGreg 
*All Photos ©2019GregAutry  ALL RIGHTS RESERVED