By Kathy Carpenter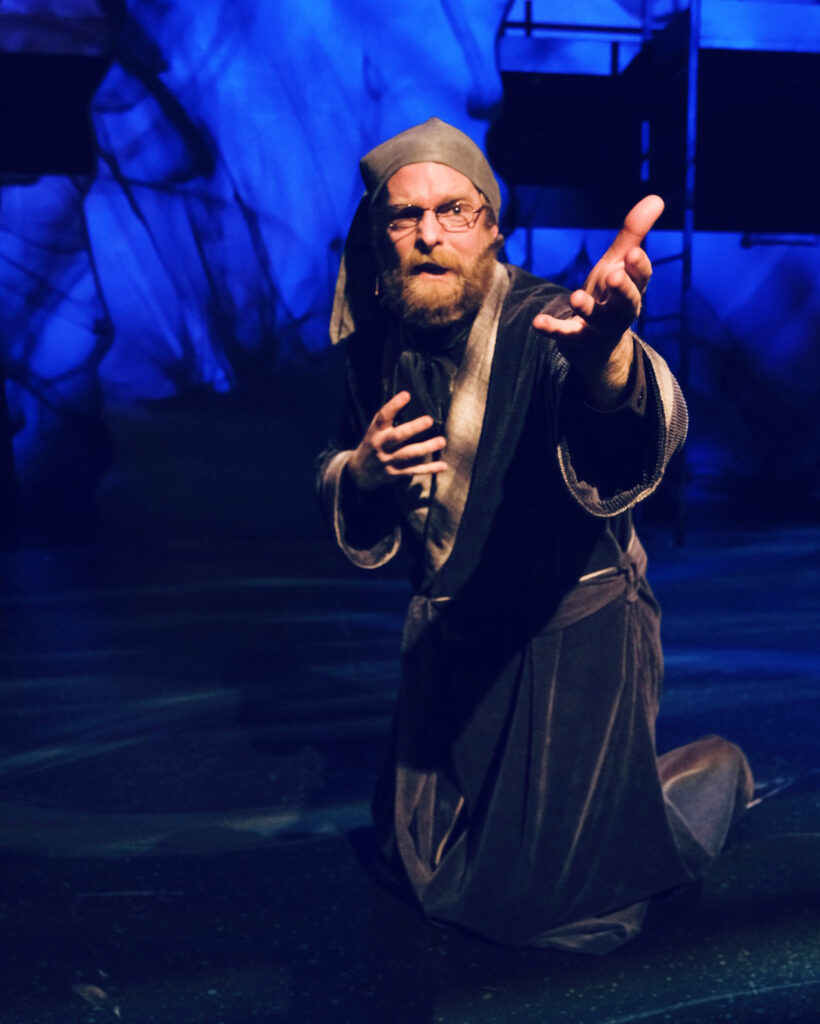 Lamb's Players present: Lamb's Festival of Christmas 2021, "A Christmas Carol, " 'A Joyous and Festive invitation into the holiday Season.' based on the novel by Charles Dickens, adapted and directed by the fabulous Kerry Meads, with musical direction by G. Scott Lacy. For the past 42 consecutive Decembers, Lamb's has brought us the Festival of Christmas. Every year they present a play written by Kerry Meads, filled with lots of Christmas music, and families of one sort or another, laughter and joy. This season they asked Kerry to adapt the classic, "A Christmas Carol", a tale that is familiar and normally has a very different tone. Meads version still carries her signature, with a hint of laughter, and joy. This version is festive and joyous, and very much the story you know and love.
Everyone knows the story of Ebenezer Scrooge, the miserly, cranky, man, with less than Christmas spirit, who is visited by the three ghosts one Christmas eve, and does a 360. But what this version offers, which impressed me most was the inclusion of the setting as a character.
As a writer you learn one use of under used characters is as a setting. Rarely, is it used but when it is, it's profound. Never have I seen a better job of this in the nearly one thousand plays I've reviewed. Of course, this is mostly due to technology. Whether it was Meads intent or not, the setting backdrop impressed me. A simple setting, which I first thought of as made of gray wood decorated with big red ornaments and snow and pines that I loved when I entered. But it soon became much more as it changed continuously, with story and Christmas elements.
Then we have the actual cast. The show opens with these glorious eleven choral voices welcoming us with Christmas songs, dressed in Dickens attire, six men, with colorful vests, and five ladies in dresses and shawls, replicating the men's colors. Brian Mackey, led the cast as Scrooge, using his talents to lend just the right amount of classic curmudgeon and fun, to give us something fresh. The remaining ten, played multiple characters, displaying superb acting and a rendition which I'm sure will become one of your new favorites, one you could watch again and again.
Nancy Snow Carr, played Christmas past with a white sparkling dress, that would rival any fairy or angel. Leonard Patton, brought us Christmas present, with a classic rich robe, as shown in the movies and a wondrous sparkling crown. The great Luke Monday, gave us the mysterious Christmas Future, encased in a scene stealing a cape/robe of his own. You have to see this one to believe it. The costumes were beyond words. This cape may be the best costume I've ever seen in a play.
The cast rounds out with Angela Chatelain Avila, Sandy Campbell, Geno Carr, Michael Louis Cusimano, Charles Evens Jr., Catie Grady, and Jazz Ruiz.
This play is not to be missed, especially if you are a fan of Kerry Meads, Festival of Christmas or A Christmas Carol.
A Christmas Carol
Lamb's Players Theatre
Nov. 30 – Dec. 26
1142 Orange Ave. Coronado
619.437.6000
The Hound of the Baskervilles
January 29 – March 20, 2022